Today I signed up to take part in the handmade gift exchange hosted by Linda from Craftaholics Anonymous.
I have read so much about craft exchanges and gift swaps but not found many that are open to crafters in Europe. I was so happy to read Linda's post and to find out it was open internationally too which is awesome!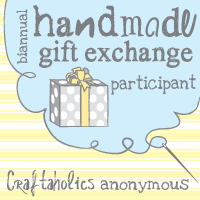 I can not wait to find out who I am paired with! And so excited and brimming with ideas of what I could make to send to them! If you want to take part you can read about it on Linda's blog and it has the link their to register.